After more than 25 years in this business of custom built tables, I can tell you that this is, without question, the most popular conversation that we have with our customers!  We offer the luxury of building a table for you, in a size that makes sense!  Nobody wants to have a table that falls short of the mark and doesn't meet the needs of your family.
The starting point for deciding the best size table for your dining room or eat in kitchen is to follow the guidance of Architects, Designers and Decorators who would all advise that 36″ be available from the edge of your table to your wall or, whatever furniture is on the perimeter of your room!  This clearance dimension allows for a chair to be pulled out from the table and give you enough room to sit down, scoot up to the table and also allows someone to have enough room to walk behind the chair.  Of course, when entertaining a large group, everyone involved understands that things can get a bit crowded. When you have your gatherings, a general rule of thumb is to not reduce the distance from the table edge to less than 30″.  It's also important to mention that in the case of smaller rooms with round tables or square tables, you can "cheat" the table distance guidelines by positioning your table and chairs on a diagonal therefore shifting the "pinch point" 45 degrees!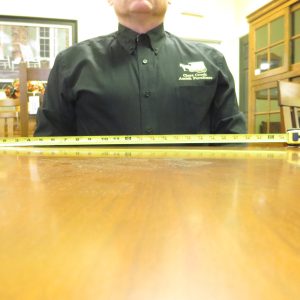 Now comes the fun part!  Most people make the mistake of determining how many place settings fit at a table based on the width of a chair.  Although that is a consideration, the most important thing to consider is the natural or average width of an adult's elbows at rest!  Although, that dimension is between 18″ and 24″, we suggest a place setting minimum of 24″.  A more comfortable, spacious, place setting width is 30″.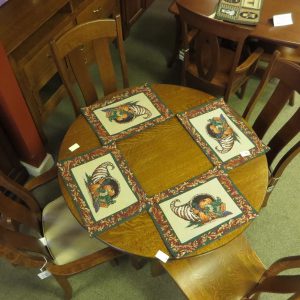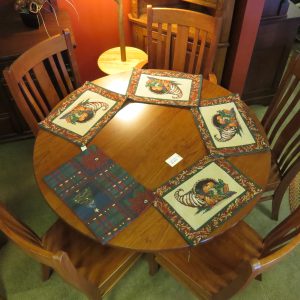 Round tables offer challenges for seating!  Many customers have come in with the belief that round tables actually sit more people because, they believe, you can place more people on the circumference.  The reality is that a round or oval table actually compromises the table top "real estate"!  In order to make a round or oval table, the builder actually removes material and takes away space that could be used for a place setting.  For the purpose of this article and demonstration, we've take pictures of tables with placemats in order to simulate a typical place setting. To determine how many place settings fit on a round table, the good old perimeter formula of Pi R Squared is used.  A 42″ table give us a perimeter of 131″ and allows for a comfortable four place settings. The picture on the left is a 42″ round. As you can see, it works great for four people but, would be tight for 5 but, it can be done in a pinch.  The table on the right has a diameter of 48″. It works nicely for 5 and can seat 6 in a pinch!  To demonstrate the reality of more seating on a table with straight edges, See the 48″ x 48″ square table below that seats 6 people with ease!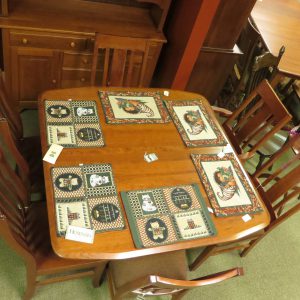 To finish off the round table table topic, here is a 60″ diameter table that seats a comfortable six! To the right is the same table with seven place settings!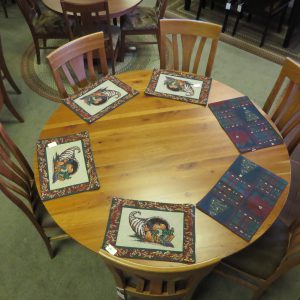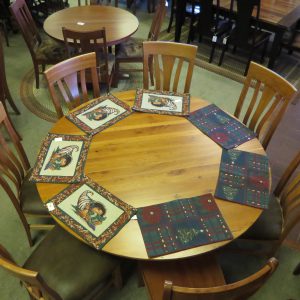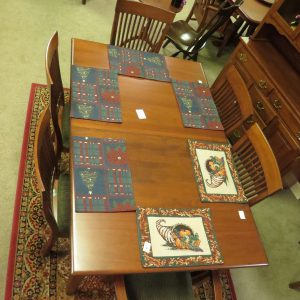 Rectangular tables offer the best use of place setting space!  Our "go to" starting table size is a 42″ x 66″.  We feel that this size table offers a nice amount of flexibility and will fit very well in the majority of today's dining rooms! A 42″ x 66″ table is a very comfortable size to 6 adults on an everyday basis.  But, It actually works for a cozy eight!  See the table on the left!
Although we can add up to 13 leaves to leg tables, here is the same table (below) with two, twelve inch, leaves (totaling 90″) to add two more place settings giving us a total of ten diners!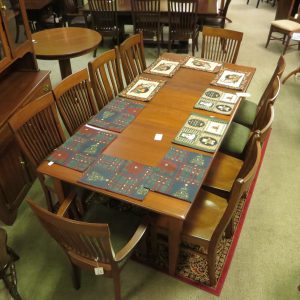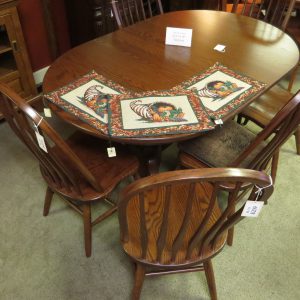 Sometimes an oval table adds a touch of elegance to a formal dining room. In the case of the same 42″ x 66″ table size in an oval geometry, you can count on six place settings without adding leaves. I'm also showing a picture of how the place settings that "don't work" as you add a place setting on the corner.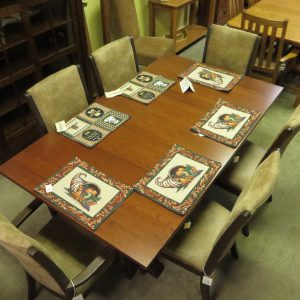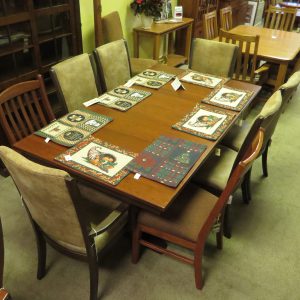 This example of a 42″ x 72″ table shows how things get "loosened up" for six and eight place settings!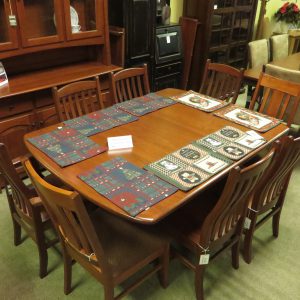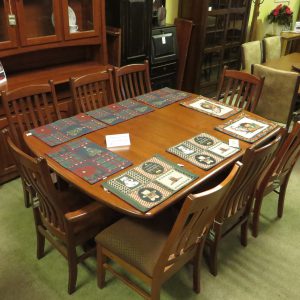 Jumping to a 48″ (48″ x 66″ shown) width for a table opens up some added benefits when it comes to the luxury of extra room in the center of the table for serving dishes. The other added plus is the room for two place settings on the end of the table.  Each person would have 24″ of width which works great when attempting to maximize ability to seat more people!  Or, you can leave one person on the end and load up the table length with place settings (as shown on the right).  For the discerning, decorator type eye, some feel that a 48″ wide table doesn't look as attractive as a more narrow table of the same length.  But, we all make decisions about these things for different reasons! In this case, more comfortable place settings are nice!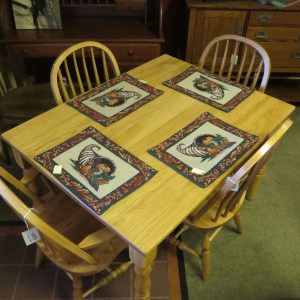 Our ability to have a table made any size helps our customers with small spaces and large spaces alike! Something that can be individually tailored for their needs!  Small tables require as much or more discussion as large tables! The table on the left is a 36″ x 48″ rectangular harvest table.  Once a table depth drops below 42″, the room necessary for serving dishes gets compromised.  But, seating four can still be accomplished!  Here's the bottom line!  We've all been to restaurants that push the limits on small tables!  You just make it work!  A table as small as 30″ x 30″ works to seat four. A 36″ round top is about as small as you want to go for four.
We, at Clear Creek Furniture, are here to help! We've got years of experience  and thousands of happy customers!  Let us help you solve your eating space problems!  If you would like to stop in, e-mail us, or call, we will be happy to help you with your spatial planning!  Having information like your room dimensions and the number of people you would like to seat are very helpful!  We would love to help you!  If you are trying to coordinate your dining set with your kitchen cabinets or other pieces in the area, bring a drawer or sample in of your wood!