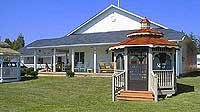 About Clear Creek Furniture
We work closely with more than 60 Amish woodworking shops in five settlements throughout Ohio, Indiana and Pennsylvania. Customers can choose from a large variety of chair styles, bedroom pieces and dining tables. Most pieces are available in cherry and oak. Many are available in maple and walnut as well. Your order will be tailored to meet your tastes in style, wood and color–or you may find the perfect piece available today in our 8,000 square foot showroom.
An accomplished furniture designer, Tim Nichols is available to spend time with you, learning about your needs and then leading you to the proper solution. Even color and hardware style can be adjusted to add the perfect accents.
In the early 1980's, Tim Nichols discovered woodworking as a hobby. As his interest in designing and building custom furniture grew, so did his appreciation for the quality and tradition of the Amish craftsmen throughout the Midwest. Tim discovered that many of these men still learn and employ their furniture building techniques passed down from generations–and an idea to present these important and beautiful designs to a broader audience was born. Specializing in Shaker and Mission styles, Clear Creek offers individually handcrafted furniture with "simple lines" and lasting quality for your entire home.
Please take a few moments to browse our web site–then contact us with your questions or come visit our Waynesville store soon!