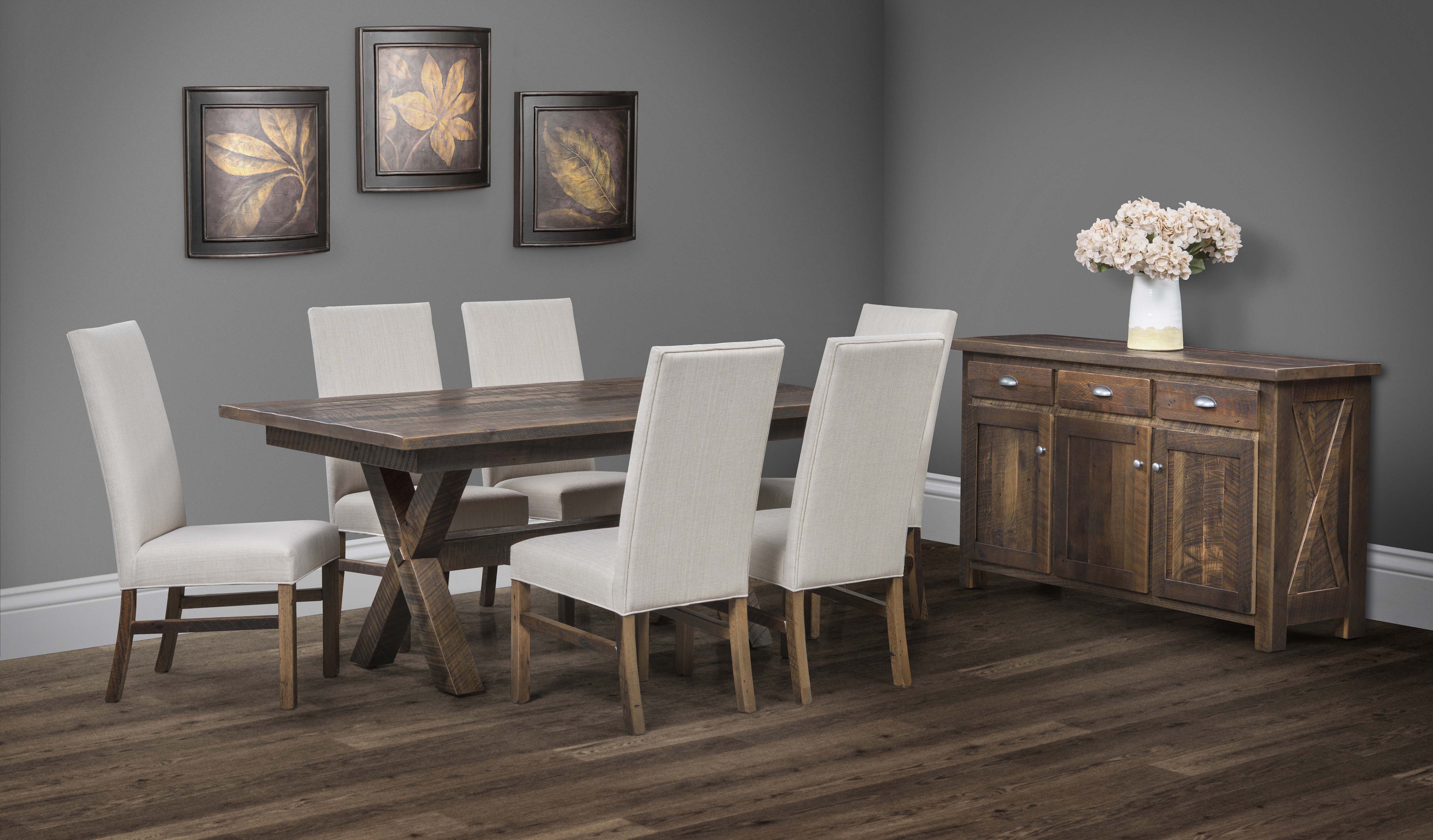 Buxton Barn Wood Dining Collection
This rustic, yet sleek, dining room collection gets its inspiration from the spa town of Buxton, which is nestled in the center of the Peak District National Park in England. The town is known for its beautiful gardens and impressive Georgian and Victorian architecture, and it provides the perfect backdrop to a rich cultural scene that is full of a diverse mix of music, theatre, and a variety of festivals.
The Georgian and Victorian architecture that graces the town of Buxton shines through in the design of this classic dining room collection, which boasts a natural feel with an elegant and light touch. The anchor piece of the set is the table, measuring 42" W x 72" L x 30" H with a 1 ⅝" solid top. The solid top is also available in lengths of 60", 84", and 96", or can opt for the extendable top with a skirt and leaves so that you have the perfect sized table for any occasion.
The table serves as the perfect centerpiece for this impressive collection and is pictured with a mission roundover edge with hand-worn corners. Made of rough sawn oak barnwood, there are several stains to choose from, and you can add a distinctive touch by opting for one of several glazes, pictured is the #3 glaze, but you can also choose from distressed pearl, windswept, white/black or royal blue.
Pictured here, the sturdy table is surrounded by our classic Windsor side chairs that provide the perfect complement to the table's dark stain and clean lines. If you lean towards a more rustic look, you can choose to add the Buxton bench to your seating arrangement, which measures 13"W x 72"L x 18"H, providing ample dining room seating at your table or even used as a separate seating area in the space for after-dinner conversation.
If you need a place to store all of those serving pieces and linens, no problem! The Buxton dining collection offers a matching server that provides a functional and attractive addition to your dining room. If you're looking for a natural, rustic look with a touch of elegance, then the Buxton collection is the perfect choice for your home!