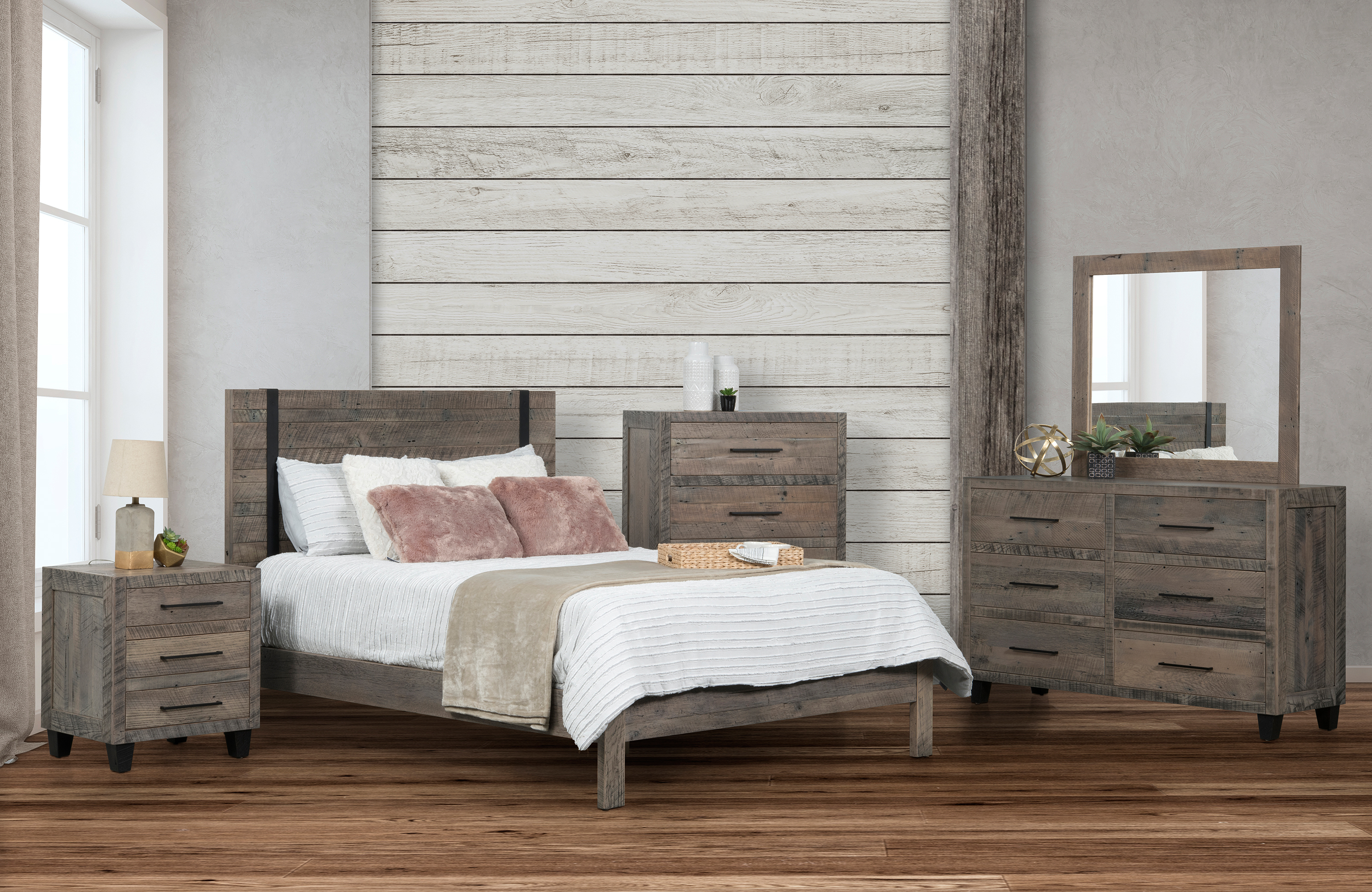 Marlow barnwood bedroom collection
The Marlow Bedroom Set was named for the beautiful town of Marlow, located in Buckinghamshire, England and nestled along the River Thames. Some notable highlights of this area that have withstood the test of time include the Marlow Rowing Club, established in 1871, annual regattas that have taken place since 1855, and a bridge over the Thames that was completed in 1835. These well-formed traditions speak to the rich heritage of the town while blending nicely with multiple opportunities for socializing and gathering, like at the Hand & Flowers gastropub that serves award-winning local beers.
This town is also known for some of its more famous residents, including poet and playwright T.S. Eliot, pop singer Robbie Williams, author Mary Shelley, and a number of other artists, athletes, and more that have graced the town's population. All of the past and present residents are part of what makes the town of Marlow the diverse, special place that it is today. The Marlow Collection reflects this sentiment in its simple, yet elegant design that showcases a fluid style that can endure and flourish through the ages.
This bedroom set is made of gorgeous reclaimed barnwood with a grayish goldish hue. It would work beautifully in a variety of different environments, and is chic while feeling like home. The Marlow bedroom set is a well-crafted blend of both traditional and contemporary designs, featuring warm, classic tones along with clean, streamlined edges. The collection, shown here in the 'Ol Yeller stain with Black Glaze, and Ebony stain on the dressers' feet, would be perfect in a couple's bedroom, a working woman's posh city apartment, the first bedroom of a young girl, or to create an inviting respite for guests.
You'll have no trouble keeping your room neat and tidy with the multiple options for storage available to you. The 6-drawer dresser offers ample space for clothes and other belongings, measuring 38" H x 20"D x 60"W, while the 4-drawer chest of drawers and 3-drawer nightstand offers extra room for your special items without sacrificing style, measuring 48.75" H x 20"D x 34" W, and 26.75"H x 20"D x 23"W, respectively. The nightstand is also available with one door and one drawer.
It's easy to relax and renew when you can stretch out on a beautiful bed, available in either a twin, full, queen, king, or California King. All of the pieces in the Marlow Collection offer a variety of different stains and glazes to choose from so that you can create a number of looks to best suit your taste.
Overall, if you're looking for a stylish, chic bedroom collection that can speak to a variety of personalities, then the Marlow Collection could be just the bedroom set for your home!