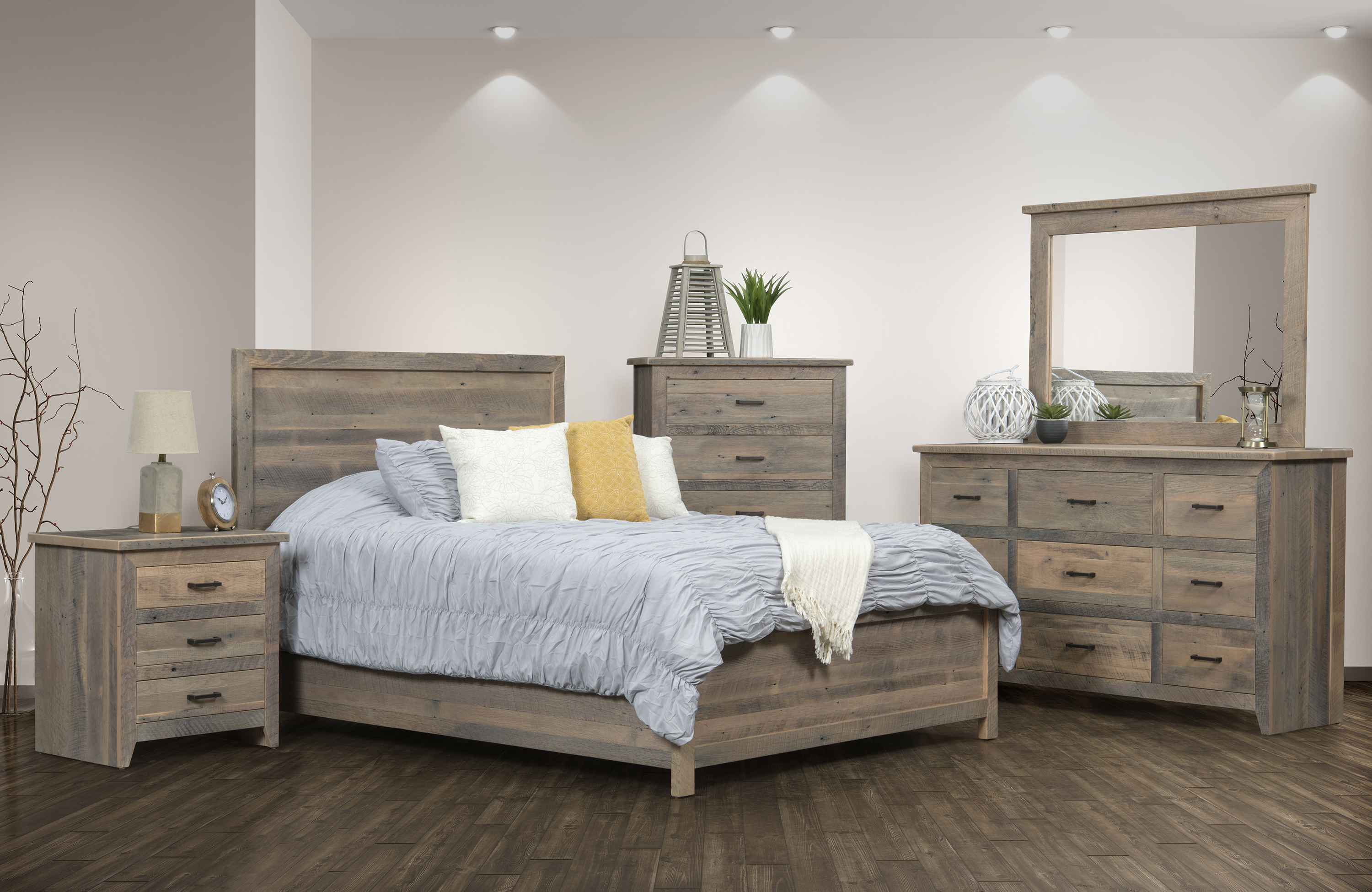 Midland barnwood bedroom collection
The absolutely stunning Midland bedroom collection showcases a perfect example of how rustic furniture can also be elegant. This set is inspired by the Midlands area of England, which is made up of a mix of metropolitan and rural areas. Each area has its own distinctive style, and this collection blends them together beautifully.
This set is made of rough sawn oak barnwood, shown here in an Ol' Yeller stain, and featuring mission round over style edges with hand-worn corners. Depending on your selected stain, you can make this versatile collection feel more feminine or masculine, and also adjust how rustic or refined you want to go. This set also has a very charming, vintage vibe when it is presented in the lighter stains.
The bed comes as a twin, full, queen, king, or California king, and would be a showstopper whether used in a master or guest bedroom. Storage abounds in this collection with the options of a matching dresser, chest of drawers, or a nightstand. The 5 or 6-drawer chest measures 52" H x 20" D x 34" W, and the large dresser is available as a 6 or 9-drawer piece that measures 20" D x 64" W and 28" H or 39" H, respectively, and comes with the option of a mirror. To keep your nighttime essentials within arm's reach, the nightstand comes as a 3-drawer or as a 1-drawer, 1-door combo, and measures 28" H x 20" D x 26" W.
You'll feel right at home when you escape to the peaceful retreat that this bedroom set creates. Its sleek lines paired with a simple, elegant design makes you want to stretch out and relax— forgetting about any care you have in the world.
If your furniture in your home displays a classical, country look, and you want to stay rustic with a refined edge, then the Midland bedroom collection is a great choice!